Posted on January 31, 2013 by Bacchus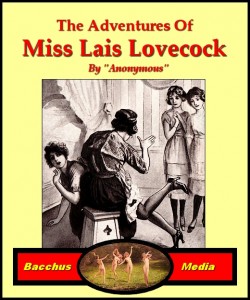 Buy The eBook on Kobo: Miss Lais Lovecock
(ePub format, DRM-free)
Buy The eBook on Amazon: Miss Lais Lovecock

(Kindle format, DRM-free)
Containing the adventures of Miss Lais Lovecock, written by herself; and what happened at Miss Twigs Academy, and afterwards.
Vintage erotica featuring the sexual exploits of Lais Lovecock, her school chums Sophy Frigger and Lucy Rosecunt, and their friends Amelia Shoveitin and Emily Longslit. Trysts, assignations, seductions, erotic birchings, and an orgy or three for good measure.
Chapter One: In Which Miss Lovecock Is Sent To School
Chapter Two: Miss Twig's Academy For Girls
Chapter Three: Miss Twig's Assignation, Observed
Chapter Four: Ten Minutes With Lucy's Favorite
Chapter Five: Tutors Away, Amorous Play
Chapter Six: Birching Mr. Shaketarse
Chapter Seven: Caught Spying; The Pleasant Consequences
Chapter Eight: The Intrusive Neighbor
Chapter Nine: The Sweet Retreat, Consecrated
Chapter Ten: Lusty Letters
Chapter Eleven: A Orgy Of Birching
Chapter Twelve: Samuel The Footman, Seduced
Chapter Thirteen: Fairground Dalliances
Original edition published anonymously in 1830 in London. The Bacchus Media edition has been lightly edited to modernize some of the language and punctuation. From the early pages:
About the fourth night after my arrival I was awoke from a delicious dream, when I found my bedfellow's finger exploring the dark recess of my maiden cunny. I said, "Why, Sophy, what are you at? Why did you wake me?"

"Why, my dear, I did not think myself safe without knowing what gender you were, and I supposed I should find it out here," putting her hand upon my burning slit. She went on:

"And are you sure I could not ravish you? I think you had better feel and be certain."

Understanding her, I immediately put my hand between her thighs. And, good heavens! How the lips of her little cunt were working in and out! Could they have spoken, I am sure they would have said, "Oh, how cruel! Why do you not give us what we want? That great restorer, balmy Prick!"

Miss Twig I found to be of good disposition, but rather fond of the twig; so much so that she never used any other punishment, and indeed with the magic birch she would transform the lily to the carnation. Let her but operate for a few minutes, the girls' cunts would display the "blushing beauties of the full-blown rose."

She used some times to flog us in the schoolroom, but more frequently in a kind of library, with one door going out of the schoolroom, which was opposite to another glass inner door. I once committed some slight offence and was ushered into this sanctum sanctorum, where she immediately told me to take off my frock, petticoats, and shift, and without further preliminary, with one leg upon a high stool, cocked me across her legs, and so placed me that my luxuriant nether cheeks were directly opposite the glass door. With a fine green birch she laid on most unmercifully, and seemed to delight in my writhings and kickings, throwing up my round fleshy thighs, then spreading my legs, showing to her lustful view Nature's lovely chink. But in time she tired of her sweet exercise, and ordered me to dress and be a good girl in future.

I did so, and returned into the schoolroom, but after a short time discovered that in my struggles I had left my garters in the library. I immediately returned to find them. Guess, kind reader, what I saw?

Why, I saw Miss Twig lying with one leg on a sofa, the other on a low stool; her gown unpinned and torn from her swelling breasts; her bottom turned up, exposing a pair of finely-turned alabaster thighs well contrasted with her black-haired cunt, and the fine rise of her polished belly ending in that magic aisle, her navel. With her fair hand she was guiding the footman Richard's tremendous rosy-headed machine to its own sweet harbour of rest, her salacious slit, while he was sucking the nipples of her milky bubbies till the blue meandering veins seemed ready to burst.